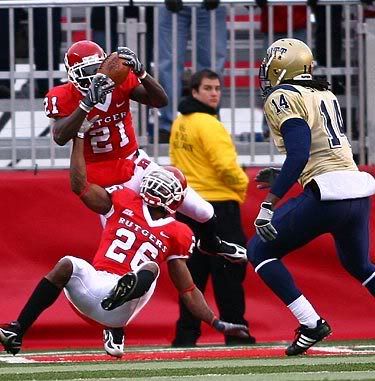 This past weekend in college football, we had a wealth of slaps make the list. There were so many, that we had to narrow the list down. Let's take a look at the list.....
10. Michigan
Michigan will make it's final appearance in the Slap 10. They're 2-6 and have no hope for a bowl game unless they pull off some sort of miracle. They''ll need to open the pocketbooks a lot more and get some more help from Big Ten officials. On defense, they need to run faster. On offense, Brandon Minor is their only saving grace. Congrats Michigan, this will be your final appearance in any top ten. Maybe Morgantown isn't so bad after all, Coach Rod.
9. Kansas
Great showing against Texas Tech. We had hopes of seeing a high scoring game, and it was. Texas Tech just scored all the points. No more hype for you guys. Mangino just ate another football player.
8. Kansas State
Bad weekend for Kansas teams in the Fat 12. 55 points allowed in one half. It's only against Oklahoma so giving up over 50 points could be worse if it was another team...hmm....
7. Kentucky
Five points against Florida. That's all your team scored.....just five lousy points. The Tim Tebow lovefest continues....
6. Auburn
Looks like the offense got "Rhoads Blocked" in the second half against WVU. The defense allowed all lanes of traffic to be opened. Pitt fans still can't figure who was responsible for the bad days the defense had...Wanny or Jumper? Noel Devine is "still running".
5. Terrelle Pryor
Not to pile up on a young true freshman, but......this isn't high school anymore. Navarro Bowman stole your lunch money....and any chance at a Big Ten title. At least, we won't get to see Ohio State choke in the BCS title game for the third year in a row.
4. Colorado
IT'S DIVISION ONE FOOTBALL!!! IT'S THE BIG 12!!!! THIS AIN'T INTERMURALS! You guys looked like an intermural team on Saturday against Missouri. Beating WVU, makes the Big East look bad as every week passes. How did you do it?
3. Ty Willingham
2002 was supposedly Notre Dame's "Return to Glory". That was after that 9-0 start where they would lose out the rest of the season. There was talk Notre Dame was "unfair" to fire you. Maybe Notre Dame knew something we all didn't know. The Washington program has been set back a couple more years. Good Job. Syracuse may be calling.
2. Aaron Berry
Yes, we hate to pile it on you as well. We just saw Kenny Britt running around on I-81 while you're on the Turnpike trying to hitchhike a ride to catch up with him. That fumbled punt was the icing on the cake to a bad Saturday at Heinz Field. Good Luck against Jimmy Clausen.
1. Pitt
Pitt is the Billy Hoyle of the Big East. Billy Hoyle was the white guy off "White Men Can't Jump" who couldn't help himself to bitch something up every time he had some sort of good luck come his way. When I think of the Rutgers game, I think of the part where Billy had three chances to prove his buddy Sidney that he could dunk. He failed on all three attempts.
As for the loss, I'm reminded when Billy when home at night to his woman and he just mutters "It Happened Again.......".
Gloria represents the Pitt fan base. Just when when Pitt fans think you've come around, you do something to turn them away again. It happened with Bowling Green. Now it's Rutgers. You made Mike Teel into a Heisman candidate in one afternoon. 54 points to a team who hasn't done much offensively this season. The rest of the season doesn't get any better. Just make the trip to Toronto and be done with it.