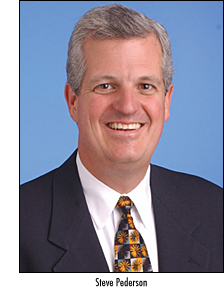 Manhattan, NY -
Pitt's Athletic Director, Steve Pederson, has been seen extensively in the Broadway area of NYC in the past 6 months. Inside sources reveal that the humble AD has been taking pointers from the only folks that change costumes more often than the Pitt football team.
Many of those close to the talks were unwilling to speak. However, the Magical Mister Mistofolees gave us quite interesting talking points. "This brutish man comes in and starts asking about how many times we change during a performance. It kind of creeped us out until we understood that he was looking for ways to push the envelope."
Many Pitt fans are unaware but uniforms were the true reason SP was brought back on. We were able to connect with Chancellor Nordy. "Let's face it - Jeff Long just wasn't changing things as much as we'd like at Pitt. He'd go 2, even 3 years without radical uniform changes and that just won't do. So I called up Arkansas and asked them to find Long something in their department. When Steve and I spoke about the position, I said, 'Steve, things are different since you left; the bar has been set higher. What can you do that you didn't do before?'" Nordy continued. "Steve looked me right in the eye, his hand shook and his voice boomed as he stated that he was going to do things that have never been imagined in college athletics. I didn't care what it was at that point; but I knew we had to have him."
According to Chris Ferris inside the Athletic Department, who spoke on condition of anonymity but we didn't care and are printing it anyway, Pederson is going to implement sports' first intra-game uniform changes. Ferris quoted Pederson as saying, "Pitt has been a leader in college athletics in the area of changing decals, logos, mascots, colors, uniforms, and everything in between. But so have a lot of other crap schools just trying to make a quick buck. We're going to up them all, even those crazy European soccer jerk-offs. We're going to change uniforms after each quarter." Ferris commented that changes will take effect in the first game this year. Pitt's goal is to implement at least 2 different color schemes, 3 different "Pitt" fonts, 2 helmets (for each player), and 2 tooth emblems. "2009 is the year of change," Ferris noted. "And if confusing and annoying our fans ever loses it's place as a top priority in this athletic department, by God in heaven, this isn't the place I grew up with. Hail to Pitt!"