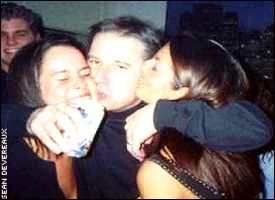 Panther Rants takes a look at this past weekend to see who made the list of slaps. Below are the recipients on the honor roll.
10. Andrew Johnson
Oh...we remember the day you wore the pink suit and pledged to Pitt. Then you decided to head to Miami some few months later. You talked about bringing some recruits to Pitt. Instead, you went with them. Then you analyzed game film for the Duke-Miami game every season...which would be the only way you'd see playing time. Now you're a backup at Akron. Still no regrets? C'mon.....
9. Noel Devine
Yeah, we remembered the high school films. Too bad you're still not in high school.....
8. Chase Daniel
So, you beat Nebraska. You didn't just beat them, you routed. Instead of celebrating, you decide to act like a whiny little bitch. Okay you got spit on and picked on by the Nebraska players. Dude, it's football not a tea party.
7. Rutgers
Keep Choppin' wood. You may just beat a Division 1A opponent.
6. Kentucky
Games like this past Saturday are a reminder as to why you're 2-34 all time versus 'Bama. At least we don't have to hear all the BCS talk like we did last year.
5. Wisconsin
Another game, another blown lead. So what was the strategy? Sit back and let a true freshman QB pick you apart? Because of you, OSU will be back in the BCS title picture again.
4. South Florida
Same blown Top Ten ranking, same blown opportunity. At least we couldn't be entertained by the story of Moffitt and his ugly wife again. Instead, we got entertained by your defense being smoked by Bill Stull, LeSean McCoy, and friends.
3. Iowa
I guess Ferentz decided to take Wanny's approach and be aggressive. You guys went for it on fourth-and-one only to turned down. Not to mention, you were in field goal range and a chance to take it to OT.
2. Oregon State
After a big win against USC, you make the list by blowing an eight point lead with under two minutes left. The Utah lovefest just keeps getting better. We could sit "Pitt-Utah: Part Two" in January.
1. Iowa State
You are number one on the list for this past weekend. You blew a twenty point lead. Good Job.